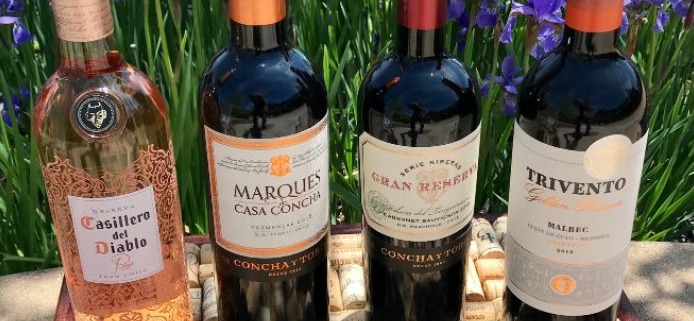 The Spicy Olive travels to South America – Chile and Argentina with our next Virtual Wine Tasting Experience.
Italo Jofre, Wine Ambassador, Fetzer Vineyards (Concha y Toro) will lead our discussion.
Chile, Casillero del Diablo Reserva Rosé, 2020 at $9.99
Chile, Marques de Casa Concha Carmenere, 2018 at $19.99
Chile, Gran Reserva Cabernet Sauvignon, 2018 at $14.99
Argentina, Trivento Golden Reserva Malbec 2018 at $19.99
Call ahead for curbside pick up or come in to The Spicy Olive to get the wines prior to the event so you can taste along with all of us.  On the day of the event, we will meet on Zoom to join as we taste four wines on a live, interactive web conference. A link with a Zoom login and password will be sent to those interested. Please reply by email or text to make sure the list of participants includes you!   
Call or visit the Shop: 513.847.4397, or Nicholas: 513.378.7244 to get the wines and join in the fun.  Email: WineDirector@TheSpicyOlive.com
You may buy any or all of the wines to participate. Pick up a Repour to preserve wines that you taste and save for later.
We can provide a line-up sheet to use for note taking during the event.
Please join us on Saturday, May 22  at 5:30 on Zoom.
Again, confirm with me that you are on the list.  Share this message with friends as well.