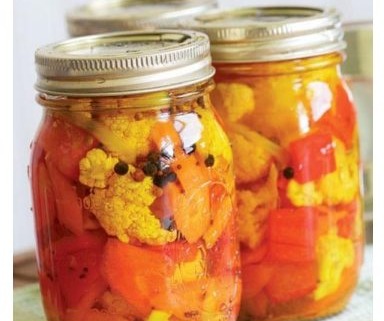 Chef Rebecca Denney returns to The Spicy Olive to lead this class on how to pickle vegetables using our delicious balsamic vinegars! This is a hands on class where you will prepare 3 jars of vegetables to pickle and take  home with you to enjoy!
Options for vegetable pickling include:
Turnips pickled with orange zest, sesame oil, garlic, sugar, The Spicy Olive's Honey Ginger white balsamic vinegar, black pepper corn, coriander seed and a single piece of cilantro.
Marinated Veggies: Cauliflower, red pepper, carrots, Broccoli with The Spicy Olive's Serrano Honey vinegar
Quick refrigerator
pickles
– cucumber, sugar, garlic, dill, choice of balsamic vinegar to use.
Pickled beets  with star anise, cinnamon, cloves.
Attendees will go home with 3 jars of pickled vegetables, recipes and a 60 ml bottle of balsamic vinegar.
This class will not include a meal. Attendees can purchase a glass of wine to enjoy during the class.