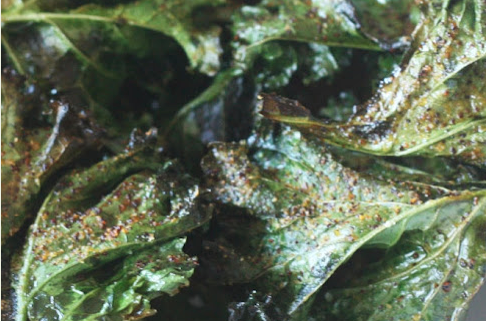 Recipes From May 2016 Newsletter
May Recipes Featuring the Flavors of the Month:
 Baked Kale Chips
Ingredients:
4 cups kale leaves, washed, dried, and cut into 1/2″ pieces, with tough stems removed
2 tablespoons Harissa Olive Oil, Chipotle, Milanese Gremolata, Tuscan Herb or Blood Orange could also be used
1 teaspoon paprika (optional)
1/2 teaspoon fine sea salt
Directions:
Preheat the oven to 275 degrees F.
In  a large bowl toss the kale with Harissa olive oil, paprika, and salt.  Arrange the leaves in a single layer on the baking sheet lined with parchment.  Bake until crisp and beginning to turn golden-brown at the edges, about 20-25 minutes
The Spicy Olive's Shrimp Scampi
2 Tablespoons The Spicy Olive's Milanese Gremolata
1 onion or a shallot,  diced
2 cloves of garlic, chopped
1/2 teaspoon salt and pepper
2 Tablespoons The Spicy Olive's Sicilian Lemon white balsamic vinegar
1/4 cup white wine
1 Tablespoon capers
2 lbs. large raw shrimp, clean, peeled and deveined
Parmesan cheese to taste
2 Tablespoons butterSaute onion or shallot in Milanese Gremolata olive oil in a large skillet. Add garlic, salt and pepper, Sicilian Lemon balsamic, white wine and capers. Simmer for 5 minutes. Add shrimp and simmer for about 7 minutes, until shrimp are almost done. Add butter to pan and stir into sauce. This should thicken the sauce, you can add more butter if desired. Serve over pasta, rice or toasted french bread slices and top with parmesan cheese. Delicious!
The Spicy Olive's Citrus Salad
2 tbsp. walnuts or pecans, chopped
6 oz. bag of mixed greens
2 naval oranges, peeled and sectioned
1 large grapefruit, peeled and sectioned
1 pear, peeled and thinly sliced
1 cup seedless grapes, halved
1/4 cup crumbled feta cheese
Dressing:
1/4 cup The Spicy Olive Sicilian Lemon or Grapefruit White Balsamic Vinegar
1/2 cup The Spicy Olive Blood Orange Olive Oil
1/2 tsp. salt
1/2 tsp. pepper
3 tbsp. orange juice
Mix salad greens and fruit in a salad bowl. Whisk together the dressing ingredients except for the olive oil. Add oil in steady stream, whisking constantly until well incorporated. Pour over salad and serve.
The Spicy Olive's Roasted Broccoli
1 bunch of broccoli, washed and cut into spears
Mortar and Pestle's Citrus Herb Seasoning
1/4 cup The Spicy Olive's Milanese Gremolata olive oil
Preheat oven to 400 degrees.
Place broccoli in a ziplock bag. Pour Milanese Gremolata over broccoli and seal. Shake bag until broccoli is evenly coated. Spread on a baking sheet.
Sprinkle with Mortar and Pestle's Citrus Herb seasoning. Place in oven and roast for 20 minutes until broccoli is crisp tender. Enjoy!
https://www.thespicyolive.com/wp-content/uploads/sites/69/2017/03/Baked-Kale-Chips.png
350
486
spicyolive
https://www.thespicyolive.com/wp-content/uploads/sites/69/2017/03/the-spicy-olive-logo-sm-e1597328119664.png
spicyolive
2016-05-05 17:32:29
2017-05-23 10:57:25
Recipes From May 2016 Newsletter